What are the Benefits of Using a Debt Settlement Company?
June 15, 2021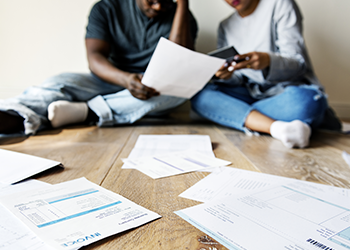 According to data from Debt.org, total U.S. consumer debt stands at $14.9 trillion, including auto loans, credit card loans, mortgages, and student loans. When struggling with debt, one of the possible options to remedy your financial situation is to work with a debt settlement company. These companies help contact your creditors on your behalf and negotiate a reduced payment plan. Before using a debt settlement company, however, it is important that you understand the benefits and risks involved.
At Simmons & Greene, P.C., we are dedicated to offering knowledgeable and comprehensive guidance to clients in debt relief matters. Our experienced Arizona debt relief attorneys are available to discuss your situation, explore your possible options to achieve debt relief, and educate you about the benefits and risks of using a debt settlement company. As your legal counsel, we will guide you through the legal phases involved from start to finish and help you make important decisions. We're proud to serve clients throughout Phoenix, Glendale, Peoria, Mesa, Chandler, Scottsdale, and Arizona.
What is Debt Settlement?
Debt settlement, also known as debt relief or debt adjustment, is a debt repayment approach that allows you to settle your debts for less than the amount owed by offering the creditor a huge lump-sum payment. A debt settlement company will reach out to the creditor on your behalf and help negotiate a reduced amount.
What are the Benefits?
Here are some benefits of debt settlement:
Save Money & Time: Debt settlement can help consumers save money by allowing them to settle their debts for less than the full amount owed.

Reduce Debt Amount: Settling your debt through a debt relief company can help reduce your debt amount.

Avoid Bankruptcy: When the debt settlement process works as intended, consumers can get out of debt quickly and avoid filing for bankruptcy.

Stop Creditor Harassment: Debt settlement can help stop creditor harassment and get collectors off of your back. Instead, creditors will start dealing with the debt settlement company.

Repay Debts More Quickly: A good debt settlement plan can help you repay your debts quickly, within two to four years. Additional benefits like waived fees and lower interest rates also help make this more feasible.
What are the Drawbacks?
Here are some of the potentially negative side-effects of debt settlement:
No Guarantee of Success: Debt settlement doesn't always work because creditors aren't guaranteed to agree to the reduced payment or settlement offer.

High Fees: Debt settlement companies generally charge high fees that go directly into the company's pocket. Such fees won't help pay down your debt.

Damage to Your Credit: During the negotiation process, the debt settlement company will ask you to suspend payments. These missed payments will reflect on your credit history and ultimately damage your credit report.

Tax Consequences: The IRS will refer to your forgiven debts as income, so you may inadvertently owe taxes on the canceled debts.

More Debt: Debt settlement companies often tell consumers to make payments to them instead of creditors while they negotiate with creditors on the debtor's behalf. If the negotiations aren't successful, you could possibly end up with more debt in terms of interest or late fees.
As with every other debt relief program, it is important to weigh the benefits and risks of debt settlement to enable you to make informed decisions.
Factors to Consider
Before deciding to repay your debts using a debt settlement company, here are some important questions to ask:
When will the last debt be paid off?

What happens when the creditor refuses to negotiate?

Do I have to make any payment in advance?

What is the likelihood of being sued and having my wages garnished before that time?

Would bankruptcy better serve my goals?
Work with Experienced
Debt Settlement Attorneys
When overwhelmed with debt or going through financial distress, debt settlement, debt consolidation, and bankruptcy are among the available options to find relief. Each debt relief option has its pros and cons, depending on your unique circumstances. Consulting with an experienced debt settlement law firm is crucial to review your options and help you make the best choices for your situation.
At Simmons & Greene, P.C., our attorneys have the experience and resources to advise and guide clients who are experiencing financial difficulties. As your legal counsel, we can help you understand all of your options and determine whether debt settlement is right for your current financial situation. Our team will walk you through every step involved in the debt settlement process and negotiate with your creditors for a reduced amount.
If you're drowning in debt with no foreseeable end, contact us at Simmons & Greene, P.C. today to schedule a one-on-one case assessment with experienced debt settlement attorneys. Our firm proudly serves consumers throughout Phoenix, Glendale, Peoria, Mesa, Chandler, Scottsdale, and Arizona.